The Roadside Graves
I recently had a chance to catch-up with one on my favorite bands, Roadside Graves, at the Pickathon music festival just outside of Portland, OR. The Roadside Graves is an indie rock band based out of Metuchen, New Jersey who blend haunting folk, roots, Americana music and straight-up rock. They released one of my favorite records of 2009, My Son's Home – a sprawling and ambitious 18-song record dense with beautifully detailed characters and stories – as well as one of my favorite EP's of this year, You Won't be Happy with Me. If you don't know them, you should.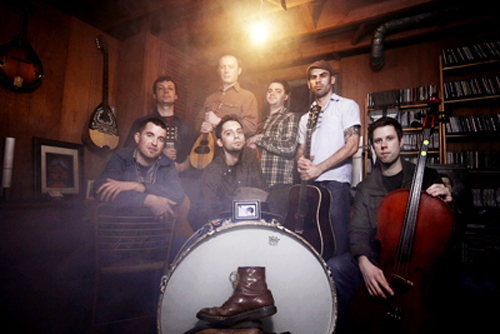 RD: The name "Roadside Graves" invokes imagery of a desolate highway which are also consistent with the group's themes and sound. To what extent, if at all, did the sound and name inform each other?
RG: The name came about during a cross-country road trip that singer/violinist John Gleason and I took over a decade ago when the band was just starting out and were beginning to write new material. The freedom of being on the road, mixed with a heightened sense of awareness of the constant proximity of death, came to light in "Song for a Dry State" (If Shackin' Up is All You Want to Do) which John wrote on the road. It has a line in it about "passing by the roadside graves." Took the band name from the line in the song because it seemed to represent the darkness that underlies all our songs.
RD: What is your songwriting approach like?
RG: We write and arrange songs pretty much in one of two ways: John writes lyrics and a basic melody and we bring it to the band to come to life. Or, we make songs up at band rehearsals starting highly improvised and then refine it over time. In each case, the band shares a similar philosophy that the lyrics should come first followed by the arrangements, which provides the landscape in which the narratives inhabit.
RD: In the past you've cited "Deadwood" as an inspiration for your songwriting process, and that being such an intelligently written show with a diverse set of characters, it sucks you in like a good book. And me being a Librarian, I was wondering how avid of readers you all are? What are you currently reading and how does your reading inform your songwriting process?
Right now the most important book for John, our sing-leader, is probably S.E. Hinton's The Outsiders, as we are writing an entire album inspired by the book. That is probably the best example I can give of a book directly influencing our songwriting. Some of us read books about music, which certainly can have an influence. For instance, Johnny, our keyboarder, is very well studied in the history, maintenance, wiring and re-wiring, playing, recording, building, conspiracy theories on, and coincidences relating to the Mellotron. A lot of our songs are sad, so I like to read sad books, to see how other people do it, and make myself sadder so I can write better. Currently reading Jack Kerouac's Visions of Gerard, about his dead brother. Rich reads lots of Comic books, and so being well educated about super heroes, can now play guitar like a super hero, he knows what it takes. Dave reads cookbooks and apocalyptic survival guides, I think that speaks for itself. Colin, our drummer, discovered recently that he needs to read more books, because he is worried that he is getting stupid. I'm not sure how reading Albert Camus' The Stranger influenced his drumming, but it's a good start, and it must be in there somewhere, lurking in some special click or tap or smash. I'm waiting for some critic to write, "Why yes, cough, ahem…, i'll give them a .010091 out of 1, because they sound like The Felice Brothers meets Camus…."
RD: There is a catch phrase "Jersey Revival" that has come into being over the last year or so that conjures a particular sound and set of influences. How would you describe the scene around Jersey these days?
RG: New Jersey has had a productive and healthy music scene for as long as I can remember. As kids, it was mostly hardcore and punk (Bouncing Souls, Lifetime). We were heavily immersed in that growing up. It's still a pretty thriving scene. Gaslight Anthem and the Screaming Females are two Jersey bands that are really making a name for themselves right now. And then there's Bruce Springsteen, of course, who has had a profound influence on us as a songwriter and performer, as well as the E Street Band as a great example of what a big band can accomplish sonically and visually. He's still a huge musical presence, even if he doesn't hang around the local dives and come to the house shows.
We get to play with some excellent bands in New Jersey, but we aren't really part of any cohesive scene that I know of, by virtue of the kind of music we play. We seem to float between scenes playing with indie rock, punk and folk bands. Our shows bring together a wide range of people from longtime fans and friends to people of all ages and walks of life and to me is the scene in New Jersey.
We love the comparisons to our heroes: Dylan, The Band, Springsteen. It's touching and an honor to be mentioned alongside those guys, as well as talented contemporary artists like the Felice Brothers and Bonnie Prince Billy. But we all have eclectic taste in music. Mike, our pianist, comes from a classical background. Johnny, our new keyboardist, loves early Genesis. John rocks out to Meat Loaf and the Bee Gees; Colin, our drummer, is on a Ministry kick. Rich, our guitarist, is obsessed with Sister Rosetta Tharp. Dave, our bass player, has recently discovered a love for West African music. The Talking Heads have been my most recent major influence. No one has ever compared us to Tom Waits, The Geto Boys, Randy Newman, or Roger Miller, but they haunt everything we do.
RD: How has the internet contributed to the success of Roadside Graves?
We've been lucky enough to fall in with some pretty internet savvy guys – Justin and Scott at Aquarium Drunkard also run our label, Autumn Tone. They and our sexy manager Dane have helped us navigate that strange world and really put us in touch with some fantastic bloggers…folks who don't get off on tearing records apart but rather use it as a medium to express their love of music and to connect with people. It's been a pleasure to tour and meet the people behind these blogs in person, hang out, eat and drink with them, launch water balloons at their neighbors' houses, play their parlor pianos.
The internet has been good to us…because of these writers, a lot of new people get turned on to our music, as long as seeing our pictures doesn't scare them off. So when we play in Idaho, or LA, or Milwaukee, people have heard of us, know the songs and come to the shows. Facebook and other social networking sites have been really useful for connecting with fans and promoting shows, seeing where the beautiful girl who left a comment lives so you can hope to meet her at the show there.
RD: With the reissue of your first album, If Shacking Up Is All You Wanna Do, and the release of You Won't Be Happy With Me, an EP of new material all in one year, how do you see the evolution for your music from then until now, both musically and lyrically?
Those two records are centuries apart. Shacking Up was written when I was single and desperate, much like the band. We played maybe every four months usually at the same bar, The Court Tavern (which we still proudly play nine years later) in New Brunswick, NJ. It's a hard luck punk rock always soon to be demolished and threatened continually with becoming a parking garage for the hospital basement bar. I wrote songs in my basement, we practiced in a basement, we played shows in people's basements and at the time that was good enough for us. Which explains a lot, the writing on that first record has two intentions, to purge my then problems and to entertain our drunken friends. It was not meant for anyone well adjusted to the world. I hear those songs and I can see the wooden panels on the wall where we recorded and the faces of people I no longer know. At the time I was frustrated with indie rock, I had worshiped so many when I was 15, in my corduroys and cardigans I'd buy anything from Simple Machines, Teen Beat, Shrimper, and others I'd circled in my AJAX catalog. Eventually it left me cold, those early Mountain Goats and Sentridoh cassettes were inspiring, welcoming, and despite having no musical talent enough to get me to start a band. Later it seemed the dark sunglasses moved in and took over the zit faced four track kids. So I became obsessed with country and folk, its obvious influence on this first record. I loved the hate, the despair, and the great and goofy phrases like, "She's acting single so I'm drinking double". We are from New Jersey so playing country music was a quiet fuck you from a bunch of guys who were completely and degenerately uncomfortable with themselves and their surroundings.
I'm happy to report that nine years later we are still as troubled, some far deeper than others but we've learned to take ourselves slightly more serious musically thanks only to the concrete and persistent group of people who came to our shows so many years ago. We are still breaking tables and throwing chairs, still manage to sexually gross each other out in hotel rooms, still dance with each other at weddings, still manage to take care of each other and still meet every Sunday to write and practice.
The new EP was a strange beast. The songs, both lyrics and music, were improvised during practice. Less narrative, but more natural sounding. More landscape and less twang. The difference between the first record and the current crop of songs is an awareness of an audience and a weariness of writing about yourself. I think that's why we are working on the Outsiders record (currently writing a song for each chapter of the book), I'm slightly nervous about my thoughts…I mean christ two nights ago I started writing a song called "God makes Junk" and then I stopped and continued with an Outsiders themed song. It's difficult to decide how far you want to go in, especially if you expect other people to enjoy it. No matter the character my thoughts enter regardless, but it's a nice disguise so people might not think you're such a depressed creep. Musically I believe the band is distancing from country and folk music and hoping to cross enough genres to confuse and challenge. We are also more interested now in creating an atmosphere for each song as opposed to earlier records while maintaining the feel and sweat of our live set. We've played more terrible soldier shows then most bands and have eased into a comfortable appreciation for playing to five people as if there were a thousand. I hope that comes across also in our records.
In addition to the Outsiders record, which we hope may be our first vinyl release, we are also writing what I believe will be our proper full length follow up to My Son's Home tentatively titled, Let's Go to the Beach and Be Miserable.
CONTEST DETAILS: Just send an email to contests@recorddept.com by midnight (Pacific time) October 31, 2010 and we randomly pick a winner to receive a copy of Roadside Graves' latest release You Won't Be Happy With Me EP.